Happy Friday! What plans do you have for this weekend?
The Hubs has to work all day Sat, so no spending time with him til Sunday. Here is my list of stuff to do this weekend.
Clean - this place is a mess from the 4 days without power.
Recover pillows in living room.
Craft fairs- I know some craft fairs were scheduled for this Sat but some places still don't have power, so I don't know if this will happen.
Grocery shopping- I had to throw out alot of food thanks to the power outage.
Teach Sunday School at church Sunday.
Think of something to make for this: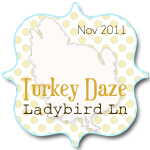 Over at Ladybird Ln Nov is dedicated to turkeys! Her husband is a Turkey farmer! I think that is so cool.
She is hosting a link party later with all things turkey. I am thinking an apron for turkey day, cupcakes, or pillows.
Hope everyone else has a great weekend!